About Artist
Alex Arshansky is a self-taught artist working in his original style of "Biomorphic Cubism".

Alexander is a prolific artist living in San Diego, California with over 1000 paintings produced since 2008, when he started a serious persuit of the artistic career. Now, Arshansky has an exclusive representation by Sparks Gallery in Southern California. The Artist is originally from Moscow, and moved to the United States a quarter century ago. The extreme change of climate, environment and culture have affected his artistic vision and expression: the work has evolved into what resembles Ancient Mayan Art with a rounded cubist twist of his complex mind's eye. The art explodes into a bright array of color-space elements and lines that make up each painting: Like in a mosaic: from parts comes the whole - an observer will discover many parallel stories and realities within each artwork.
In addition to many hours of work, the artist puts his heart and his soul as a projection of emotions and feelings the artist experiences into each piece. Most people say that they feel a deep connection with his work on a very personal level. To Arshansky this is the greatest reward, rather than the acclaim and the recognition, although ever-tempting, they are not the driving motivation.
Alexander has a compulsive need for the creative process, and believes that making art creates a chain reaction of inspired minds in all forms of expression in order to make this world more beautiful, complex and magical.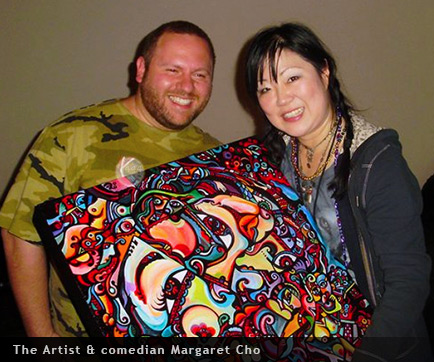 The Artist strongly believes in personal development both intellectually and spiritually, as the fusion of logic and intuition produces the best results. Alexander is a scholar of palmistry and hand analysis, and uses symbols and signs found on our palms in his paintings. If you live or visiting the area do not hesitate to contact about a an interesting palm reading. Alexander works as a full-time Russian over-the-phone interpreter and paints as he interpreters.

All the random emotions and stories of people around the world, their pain, joy, problems and victories serve as an inspiration and energy for much of his latest work. His landscapes are playful, and his non-figurative abstract pieces are modern flattery to the works of Kandinsky, while Picasso and Dali are still those important influences who were artistic rebels of their time. Arshansky's paintings are owned and have been seen around the world through his many travels.
Among proud owners, Comedian Margaret Cho (See " Many Faces of Margaret Cho")

Please visit Sparks Gallery in downtown San Diego (530 Sixth St, San Diego, CA 92101) and if you are in Hillcrest, see some of my smaller size artworks at the Cafe on Park (3831 Park Blvd, San Diego, CA 92103)
Creative process starts with a sketch and turns into an artwork one piece at a time.
Written by Andrew Printer:
Alexander Arshansky is a Russian-born artist currently living in Southern Califirnia. He works in the style of Biomorphic Abstraction, a technique explored by the likes of Henry Moore, Barbara Hepworth, Miro and Kandinsky in the 1930's and 1940's. Biomorphic (aka Organic) Abstraction relies upon rounded forms similar to those found in nature.

Each of Arshansky's painting involves layers of storytelling communicated through symbolism, intricate pattern and color spaces. There is a story within a story, revealed only to the those who are willing to devote some time to his imagery.

He isn't absentmindedly filling canvases with blocks of red or blue, mind you. Like many emigre's unsure of their long-term security Arshansky continues to work full-time as a phone-based Russian/English translator within the corporate sector. He paints while he listens and speaks. Therefore, his images become visual interpretations of intricate insurance settlements, complicated, emotional medical matters and embattled personalities.

Arshansky says: "I want to please the eye by challenging the mind."

Not surprisingly his fans (and there are many) develop a strong connection to Arshansky's style and themes. His work has been exhibitted around the world (it's not unusual for him to have several small and significant exhibitions happen simultaneously) and can be found in many private collections including that of the comedian Margaret Cho.

Arshansky is at a point in his career where acclaim and recognition are fast approaching. But these are not driving motivations for him. Rather, it's a compulsive need to be engaged in the process of communication, a compulsion that has led to the creation of over 850 paintings in the past seven years alone.

"I have found myself viewing his work and spending a long period of time at each piece intrigued by the story within. I have also found when I view that same piece again later, I see something I had missed the first time. This is a very unique talent. I highly recommend seeing his art as it is very powerful and you will find your mind opened with the messages within his work." (by art critic Charles Pilar)